Some (long) time ago, not too (very) long after I opened this blog, I posted a piece about the things (15 of them) that we might like to see in a care package from home. It was a write-on-a-whim moment. One of those I seemed to be better at when I first kept this blog verses what it's been like around here lately. The ultimate result of posting such a list was an overwhelming outpouring from these "strangers" in my life who took it upon themselves to cross the blog barrier and become real life friends by reaching out and sending out care packages of various sizes and contents.

Stunning, amazing, incredible really.
And awful damn cool.
(I hope you all know how very thankful I am for all of it--all this time)

Among the generosity by post was a box of books from a new friend whose own childhood roots were in Holland, and whose love of reading rivals the readers in this house. By email I was able to peruse her bookshelf titles and shortly after we were treated to a delightful package of reading material straight from her home to ours. So happy was Emma with the offering she gathered all the titles I had "ordered" for her and promptly planted herself on the couch to read.

Of course, I caught the moment on film, pixels.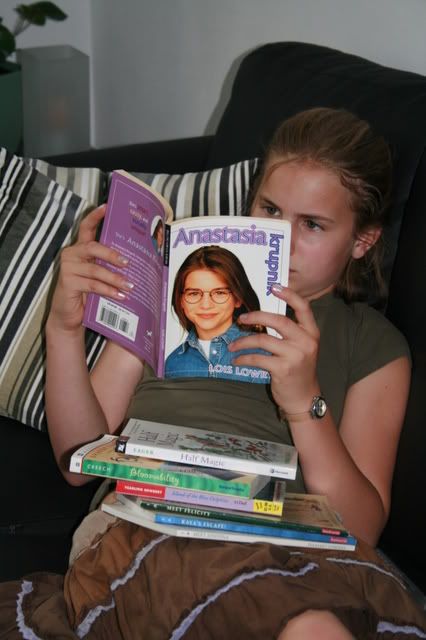 And now, this year, as part of the campaign launched by Soccer Mom in Denial to take a
DAY TO READ,
that photo is the proud poster for the event.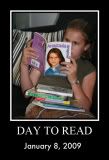 So, here am I again, offering thanks to Anno, to Allison and to my darling Emma for the the supplies, the inspiration, and the shared love of reading.

It is, after all, about the love of the book.