escape.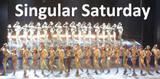 Day to Read book report below!

Hiding out with me today:
Jenn

Singular Saturday is for everyone and anyone who wants to play! The procedure is simple: Post your word, Link to me (use the graphic if you like--email me for the code), comment here that you've played and I will link you back.
Come on along.