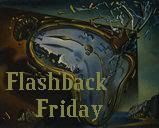 So for the first time in about a million years, I am playing Flashback Friday hosted weekly by Cablegirl at 42. And the way I am doing it today is this: I am flashing back to exactly approximately one year ago. This post that follows sits in my archives and was written when I had been blogging just over a month. As you will read, at that writing I had about 80 posts on this blog. At this writing today, as my blog just recently passed its one-year-in-production mark, I have 373 posts sitting in the archives. I suppose I am making good on my title. I do have something to say. And you can trust me that there is still more to come.

This is an interview style post, with questions posed by Allison of Soccer Mom in Denial. I have other pressing questions sitting in my email inbox from both Jen of A2eatwrite and Goofball of Goofball's world. I am confident both women think I have long forgotten about those interviews. I assure them I have not and intend (honestly!) to answer some of those probing questions in the coming days. You want to know what I have to say. Right? Am I right?

Yeah, you'll be back.

Now then, finishing this ultimately too long lead, I now give you last April's post. Original date: 19 April 2007.

******************
I am going to confess something here. I like to talk. I know this comes as something of a shock to you as there is no evidence to support that statement. I mean, it's not like there are already close to 80 posts on this 50-day old blog. No, wait. There ARE nearly 80 posts here. I must have been thinking of somebody else.

But since we are on the subject of me, let's just linger awhile.

My new mentor and greatest cyber supporter Soccer Mom in Denial has recently been interviewing friends and fellow bloggers. I have so enjoyed reading the answers to her questions and actually have been tickled by the questions themselves. So much so, that I just couldn't stand it anymore and I asked if I could join in and play. I like to be included in what all the cool kids are doing. She happily complied and sent me the following questions.

Here is what I have to say.

1. If you could go anywhere with your family (and money and time were not a factor) where would you go?

At the very moment I am typing this I am listening to my youngest son squeak and grunt as he cavorts around the living room attempting to elude the ride to bed in his daddy's arms. My oldest son is gyrating through an impromptu Napoleon Dynamite dance on the rug in front of me; and my daughter is asking if she can have 30 Euro for a lunch card at school. So in answer to the query, if I could go anywhere right now, (and the return time were not a factor) it would be WITHOUT my family. To anywhere.
Seriously, my answer is anywhere. And everywhere. I have an incredible wanderlust and I absolutely love to go. Go and see. And there are myriad places to go and see in this big, wonderful world.
Where shall we meet?

2. What is your typical Friday like?

It seems so trite to respond this way, but my Fridays are complete TGIF days. Friday is the one day of the week that I don't have a destination first thing in the morning. No school for Andrew, no dancing class, no coffee groups, no Mom/Tot meetings. It's a day made just for me and my special guy and our pajamas.
There is NO SCHEDULE on a Friday and after the morning wake up ritual of munching breakfast in front of the BBC, we make it up as we go along. The big kids are out the door by 8:00 to cycle to school and Don leaves shortly after that for work. Andrew and I indulge in watching The Tweenies and checking email (you can make your best guess about who does which) and just take the day as it comes.
Friday nights are reliably date night with my husband. I never turn that down. He's a great guy to hang out with.

3. Why Arizona before the Netherlands?

Why Arizona? Because I was born to be barefoot of course.

Why Arizona before The Netherlands is a longer story. Our convoluted path since we married began in Southern Utah, and then a stop in Las Vegas, Nevada. Both were education related moves. Most of our moves have been education related, as a matter of fact. With undergraduate school tucked away we were faced with some choices for Don's law school education. Initially we were set to return to Utah for that three-year course of study but then a letter arrived from the University of Arizona, with an offer we couldn't refuse. We moved to Tucson with our Honda Civic and a 10' trailer which held EVERYTHING WE OWNED and became desert rats for essentially the next twelve years. Eight of those years we spent in Phoenix.

4. Do your kids have the same life-is-an-adventure attitude as you?

Uh... yes. Maybe. And no.

My daughter is one of the most adaptable people I know. She seems to take anything and everything in stride when it comes to moves and changes and adventures. I have joked that we could move to Mars in the morning and by evening she would have found alien playmates and would have already scheduled her first sleep over.
My youngest of course doesn't seem to mind whatever it is we are doing or wherever it is we are. As long as he can "do it myself-okay?" and count on his peanut butter, then it's all good for him.
My oldest is my most routine oriented child. He just likes things the way he likes them, and though he has adapted beautifully to this experience and has grown immensely, I believe his preference would be to settle and stay somewhere. I picture him years from now, living a stable life IN ONE PLACE while he rolls his eyes to the top of his head as his parents pull up to his driveway in a ramblin' RV. We are a little on the flitty side and he is deeply rooted.

5. What were you in high school (e.g. jock, dramaclub, studious)?

I was a drama clubbing, madrigal singing, poetry writing social butterfly. And by the butterfly part I mean that I was (and still am) able to find a comfort spot with all kinds of people. Like a chameleon I can blend in with my environment. The bottom line is I really like people and I believe we all have more in common than what we sometimes perceive. It's all about spending time with each other and finding out just what that may be.

6. What did you expect when you started blogging?

I expected that I would find it to be cathartic and a worthwhile creative exercise. I hoped it would help me hone my writing skills. I also hoped it would help me process and record some of the experiences here. Both of those hopes are being satisfied as I blog. What I didn't realize was that it would bring me such deep satisfaction to write and share all of this every day. In addition I have been most surprised by the sweet support out there from readers and other bloggers. I didn't expect at all to find a group of terrific and loyal friends because of it. But I did. And that is a perfect sweep of icing on my blogging cake.
***********************
Do you have questions for me too? Ask away, by email or in the comments section. I will be happy to wax forth poetically on all things me for as long as y'all think you can possibly stand it. Bring it. I can take it.